Dental Assistant
Dental Assistant
A dental assistant is a dental health professional who works closely with and under the supervision of a dentist.
The dental assistant will work with patients by performing tasks before and after the dentist meets with the patient as well as assist the dentist during certain dental procedures.
Level I dental assistant
A Level I dental assistant is classified as a "chair side" assistant, which means they prepare and seat patients. Other duties they may perform include: charting patient information, sterilizing instruments and the clinical area, preparing dental materials and cements, assisting in dental procedures, processing and mounting radiographs, pouring and trimming cast models, providing patient education and post-operative instructions as well as maintaining and ordering dental supplies.
Level II dental assistants
Level II dental assistants obtain additional training in intra-oral duties, which means they are able to do everything a Level I dental assistant can do along with; dental radiography, mechanical polishing of the coronal portion of the teeth, placement and removal of rubber dams, taking of preliminary impressions of teeth for study models, topical application of anti-cariogenic agents, oral hygiene instruction with an intra-oral component, dietary counselling relative to dentistry, application of materials topically to prepare the surface of the teeth for pit and fissure sealants, application of pit and fissure sealants, application of topical anaesthetics, desensitizing agents and whitening of the coronal portion of the teeth. There are also option Level II duties, which include polishing restorations and oral irrigation.
Dental Assistants across Canada are governed by different rules and regulations, which are established by the Health Professions Act and their provincial dental assisting regulatory authorities. Education and training coupled with provincial registration and licensing make dental assistants qualified to perform their trained skills.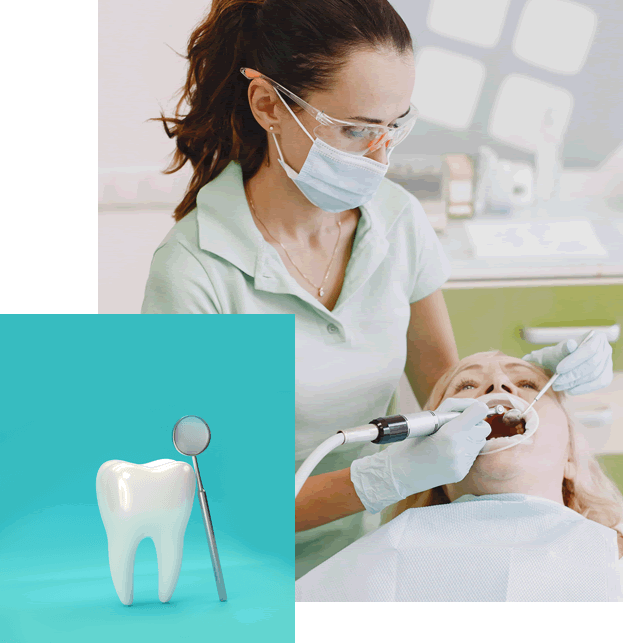 Our Professional & Friendly Dental Assistants
The specialists at Bubnik Dental make efforts to provide gentle and caring treatments to ensure your experience is as comfortable and stress-free as possible. Meet Barrington the official stress relief dog. Barrington is very empathetic offers patients calming comfort.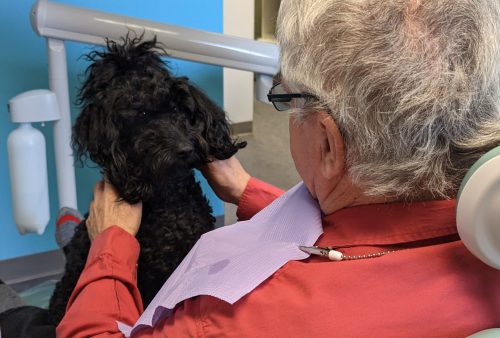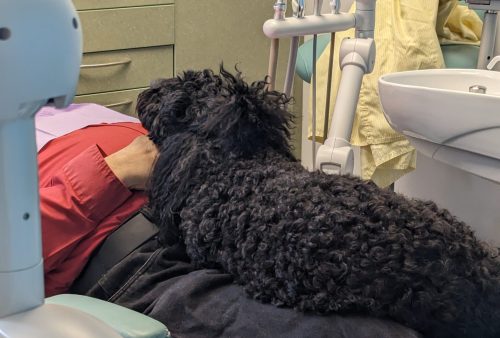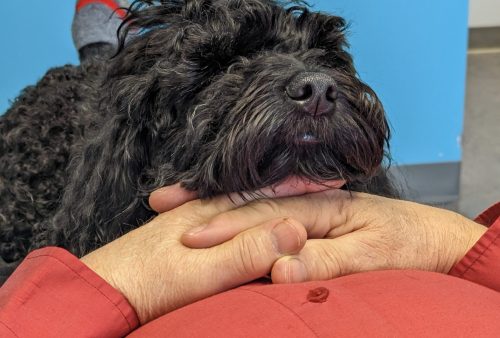 She is very kind and understanding. She has alot of patience with kids and people that are scared. She does her best not to hurt you and stops right away if she does. She is the most caring and best overall dentist that I know.
I've been seeing Dr. Brenda Bubnik since she started her practice and I must say she is very cool. I love her. She is very good and always has a smile. I enjoy visiting her and the staff. I like to make them laugh when I go there. She is very gentle when she does work on my teeth. I'm glad to have her as my Dentist. Way to go Brenda.
Dr Brenda and her staff are the coolest people I've ever met. She is to good at what she does and always makes sure that she isn't hurting you… How cool can that be. Hey yooo love you guys a lot. Oh and I know I'm overdue for my check up and cleaning. Will make appointement soon I promise…
Dr. Brenda is so kind and knowledgeable. She truly listens to my concerns, and gives me her educated opinion about how we should proceed at every visit. Even though she does not claim to be a "holistic" dentist, she respects my determination to keep my mouth mercury-free, and is clear about the benefits and risks of doing so. She is also not hung up on pressuring patients to invest in a perfect Hollywood smile, and admires the little cosmetic flaws that make us all individuals. Clearly she is more interested in her patients' health and well-being than in her own pocketbook, a trait that is admirable in a profession that often seems hung up on image. Her staff is also a pleasure to be around – all very friendly, professional, and always smiling. I always look forward to my visits with Dr. Brenda!
Very good at what she does, great service.She is very careful not to hurt you and cares about her clients.
Omg, what a wonderful person Dr.BRENDA is, she is kind, gentle and is willing to take the time and hear what you have to say.So understanding and receptful to your needs. More DOCTOR'S in all fields should be like her. What a better world it would be. Her staff is very helpful,pleasant and there all have smiles on their faces.Thank you for taking me on as a new patient.
Great dentist, always professional and happy. Treats patients like a family member and is extremely knowledgeable, best dentist in town. I recommend her to anyone looking for dentist work.
AWESOME dentist! I'm a new client to her office and I couldn't be happier! She's amazing and does only what needs to be done. She doesn't care about the money, she cares about her patients being healthy and happy!
I am a new patient to this dr and she is fantastic. Takes the time she needs to explain everything. She cares about your concerns and even shows you examples. I asked her a question and she went out of her way to show me a picture. I e never met this women before but she is a great person. Very gentile and doesn't hurt you. My husband is petrified of dentists and he absolutely loves this one her bed sides manners are awsome. I would recommend this dr to everyone
I'm quite upset to say that Dr Brenda Bubnik caused a lot of grief for our family. Her mother Dr Iva Bubnik has been an outstanding dentist and we will miss her and the staff dearly. Word of caution……don't let your children draw pictures or pick flowers for her. If you have a shy and sensitive child you might find yourself involved with CPS!! Two of the best parents I know now have their reputation on the line not to mention the embarrassment! 🙁
DR Brenda is great and who ever sais differently must be mistaken. I have been seeing her for about 5 years and no complaints. she takes the time and explains everything in detail. thanks for all you do.
Money hungry. Had both an upper and lower denture made. They fit terribly, can't even wear my bottom ones. Went back to have them fixed she relined them and they still don't fit properly. I will be waiting for the new year so I have benefits again since these have taken all my benefits plus . When I told her I was not happy with the dentures she said well you approved them. Technically I approved them under the assumption she knew what she was doing. I will be going somewhere else to have them fixed. Very disappointed with my over all experience.
I will not go to any other dentist again. Took her time with my appointment and explained what she was doing and made sure that I was comfortable. Most my family and a few friends have switched over to her and all are really happy they made the change.
Best dentist I've ever been to. Super friendly, very compassionate, excellent experience
response……if this office is so money hungry….why is it one of the few that still take welfare and disability insurances (which pays the dentist at less than 50% of the actual accepted Ontario dental association charges)….I would think if they were that money hungry they would join the rest of the practitioners in town and tell those less fortunate that they have reached their quota of patients with these insurances
This dental office is the best. I have been going my entire life, seeing Dr.Iva and Dr,Brenda. They provide friendly and informative service. I continue to see them even with my drive from Sudbury.
I have had both Dr. Iva and Dr. Brenda for my family dentist. It's been 30 yrs of good service. And when you experience an unexpected tooth chip, or filling fall out, they do their best to get you in a quickly as possible. Great staff as well.
All staff very pleasant-dentist very happy go lucky, hygienist very friendly and knowledgeable. 5 stars
I love Dr. Brenda Bubnik she takes her time also very gentle when examing your teeth. She is also very knowledgeable. Great at explaining if there is something you don't understand. Best Dentist ever.
Very caring and helpful dentist! Staff is awesome! I have been with this dentist for a long time. I started with Dr.Ida and now with Dr Brenda. Both are excellent!
Just had my first appointment at Dr Bubnik's office – what a great environment! Kelsie at the front desk was bubbly and helpful, my hygienist Nikki was gentle and informative and Dr. Brenda was kind and very friendly!
I will not go to any other dentist again. Took her time with my appointment and explained what she was doing and made sure that I was comfortable. Most my family and a few friends have switched over to her and all are really happy they made the change
Super awesome experience. I have an irrational fear of dentists and Dr. Brenda Bubnik was very reassuring. She was very informative and attentive at every stage. She did not try to up-sell services that were not needed. I felt very at ease and comfortable. The dental staff from reception to assistance are wonderful compassionate professionals.